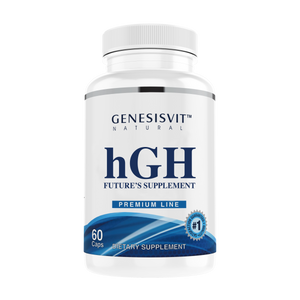 Description
Genesisvit HGH Complex is a combination of amino acid ingredients that help support the body's ability to produce HGH. It offers a combination of ingredients that help elevate the body's ability to produce HGH. Fortified with GOAL Amino Acids Complex – Glycine, L-Ornithine, L-Arginine, L-Lysine.
HGH, or human growth hormone, is produced in the pituitary gland and is very important for the growth of cells, bones, muscles, and organs. As we get older, HGH levels naturally decrease. Some studies indicate that the effects of aging we experience may be due to declining HGH levels in the body.
 Benefits
Best Anti-Aging Supplement for Women and Men.
It will help you increase lean muscle and reduce fat.
Energize your brain and with better sleep
Improve overall physical and mental well-being.
Improve the look and feel of your skin.
Reviews
​
<! –– Bazaarvoice Shopify Integration Version 1.8 ––>
Questions
​
<! –– Bazaarvoice Shopify Integration Version 1.8 ––>