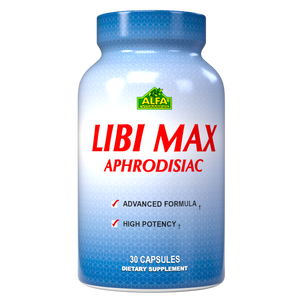 Description
Alfa Vitamins LibiMax is a sexual health stimulant made up of 19 components that may help boost sexual performance and libido.

Horny Goat Weed or Yin Yang Huo is particularly utilized in Asia to promote a healthful sexual activity.

Guarana extract is extremely well-liked by people in South America due to the higher caffeine content, making it an organic stimulant. Its additional factors have revitalization attributes that help to promote sexual driving.

Maca is known as Peruvian Ginseng. It has been popular in Peru for its properties which promote sexual wellness and strengthening of loving performance.

vitamin B6, an important factor for red blood cells and to preserve the health of the immune and cardiovascular systems. Moreover, vitamin B6 is involved in the energy production necessary for sexual vitality.

Collagen contributes to the exterior structure of cells and its moisturizing properties benefit genitals.

Other factors in the formula are a group of amino acids that support the cardiac, endocrine, and neurological systems, contributing to the balance of the body and providing well-being which may revitalizes the sexual experience.
Take one (1) Capsule daily, preferable one hour before sexual activity.
Reviews
​
<! –– Bazaarvoice Shopify Integration Version 1.8 ––>
Questions
​
<! –– Bazaarvoice Shopify Integration Version 1.8 ––>